Buy MORE Airline Miles Online at Great Prices
What's in a British Airway's Avios Purchase?
Upgrades and Savings
Fly Better Business with BA Miles
Purchasing avios for business class flight upgrades means you get your rest en-route. British Airways has retrofitted their business cabins to give you less cramped seating, better service, and more rest. Fly One Way.
Economy with BA Miles
Utilizing avios to purchase a one way ticket gives you great bang for your buck. It means that you'll get fantastic savings while still enjoying all in-flight upgrades recently installed in economy class.
Save Big On Short Haul Flights
Buying tickets and perks with avios means you get to save on taxes. Since taxes on long haul flights tend to be disproportionately high, buying avios for short haul flights gives you savings of a tax-free purchase.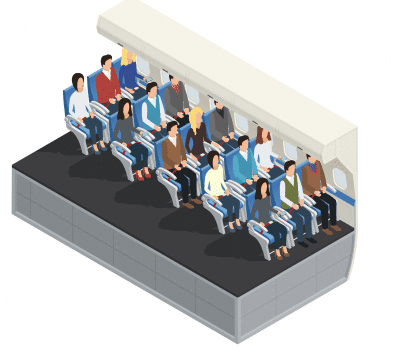 Avios in British Airways Frequent Flyer
Collect BA avios and miles when flying British Airways to enjoy these upgrades. Save a bundle in taxes when utilizing your avios, since all avios purchases are tax-free.
Flight Tickets

Hotel Stays

Car Rentals

Priority Check-ins

Premium Lounges

Class Upgrades

British Airways is a proud
One World Alliance Member

Buy avios to enjoy access to all One World Alliance Member bonuses. You can also redeem avios on most One World Alliance Member airlines.













Purchase avios to fly the British Airways Airbus A380

This double-deck, wide-body, four-engine jet is the world's largest commercial passenger aircraft. It is also one of the greenest, with lower community noise and emissions per passenger than the Boeing 747-400 despite having almost 50% more floor space and 60% more headroom!
British Airways in Numbers
100
Years
of flying royals, dignitaries, business people and travelers.
4,500
Employees
trained to bring passengers a safe, comfortable flight experience.
145,000
Passengers
enjoy British Airways pre-flight and in-flight accomodations on a daily basis.
British Airways
Fun Facts
Frequently Asked Questions

What are British Airways avios?
They are British Airways Executive Club reward 'currency'. Members collect the avios as reward points with British Airways, or with their partners, and can then use them to 'pay' for airline tickets, cabin upgrade, hotel stays, etc.

What is the difference between British Airways miles and avios?
There is no difference. While British Airways named their reward miles avios, many people refer to these reward miles as BA miles or British Airways miles. All three terms, avios, British Airways miles and BA miles are the same thing.

How can I use my British Airways avios?
You can spend your BA avios to pay for complete or partial airline tickets, cabin upgrades, extra baggage, hotel and car rentals, food and snacks while traveling, amongst other rewards. One of the biggest perks of using BA mils or avios is that all purchases and upgrades are tax-free.

How can I earn avios?
There are many ways to collect avios. Aside from buying avios, you can book flights, hotel and Airbnb stays, and car rentals with one of British Airways many partners, to earn British Airway miles.
Additionally, you can shop over 400 retailers such as Macys, Nordstrom, Apple, eBay etc. via the British Airways Avios eStore and earn avios.
The British Airways Visa also has rewards credit card company partners which offer you the opportunity to earn BA miles when using reward card companies.

How can I buy avios?
It's actually pretty simple. Find a dealer, such as Buy Flight Miles who sells avios, and start your purchase. After you make a payment, your preferred choice of British Airway miles will be transferred to your British Airways Executive Club.
The advantage of purchasing British Airway miles is that often you can save on hefty fees when utilizing miles.

Is purchasing avios worth it?
This depends on what you want to do with it. There are certain British Airways purchases which will take you very far, since the 'price' in avios is not that high. These purchases include business class tickets, one way economy tickets, short haul flights, and some other purchases. You will also save on taxes with an avios purchase.
However, some purchases may require a large amount of avios. In those cases, redeeming your avios for the purchase may not be worth your while. Feel free to contact us at info@buyflightmiles.com for more help on how to best redeem your avios.

How can I join British Airways Executive Club?
Fill out a simple, online application and once approved, you can start enjoying the benefits. First, you'll earn avios when flying, booking hotel accommodations, renting cars, making online purchases with British Airways retail partners, and more. Once you accumulate points, you can enjoy these points in multiple ways, including reward flights, cabin upgrades, hotels stays, and more. If you're ever short of just a few avios, you can purchase avios to help you get the perks.

Do British Airway miles or avios expire?
Your avios will expire if there is no activity in your account for 36 months. That's a long time for there to be no activity in an account. What constitutes activity in an account? It's not just about purchasing flight tickets — although that is one option.
Here are some activities you can take to ensure that your British Airway miles remain in your account:
Book an airline ticket using at least some avios
Upgrade your airline ticket using avios
Reserve hotel accommodations using avios
Rent a car with avios
Purchase avios.
Transfer avios to a friend or family member
All of the activities above will reset the 36 month period so that your account will be valid for a minimum of another 36 months.

Can British Airway miles or avios be transferred?
Yes. You can transfer anywhere from 1,000 to 27,000 avios to friends or family members.

How can I transfer British Airway avios?
Yes, you can transfer BA miles and avios from one member account to another. People living at the same address can transfer avios to each other's accounts for free. Transfers to other members may require a fee, unless you are a Gold British Airways Executive Club. You can transfer up to 162,000 Avios in total, with a maximum of 27,000 Avios to any one Executive Club Member, in one calendar year. However, avios points can only be transferred in multiples of 1,000, and the recipient may not have a zero balance.


Do I have to pay taxes on perks and upgrades purchased with avios?
No! This benefit of using avios can actually bring you a huge sum in savings. Taxes easily add up, especially on international flights. Saving on taxes means saving big.

How many BA miles or avios do I need for a regular economy class ticket?
The answer to this question depends on a couple of factors.
What is your location of departure and destination?
Is your preferred travel time during peak season or off season?
The answer to these questions will play a role in determining how many avios you'll need for the ticket.
Contact us at info@buyflightmiles.com and we'll try to help you with details specific to your situation.

How much are 50,000 avios worth?
Quite a bit! 50,000 avios can take you from one continent to another on a business class flight.

How much does it cost to purchase avios?
The amount of avios you want to purchase may change the price point, as well as where you purchase the avios. The larger the volume of your avios purchase, the lower the cost per airline mile will be. For example, when purchasing avios from British Airways, a purchase of 1,000 avios will cost you 31 pound sterling. A purchase of 5,000 avios will cost you 95 pound sterling.
When going to an independent dealer, such as Buy Flight Miles, you will pay for your avios purchase in US Dollars (which has a lower value than pound sterline, and will enable you to pay less out of pocket). You will also receive better rates. For example, a 1,000 avios purchase will cost you just $17, and a 5,000 avios purchase will cost you $85 at Buy Flight Miles. If you buy a larger volume of avios, your savings will be even greater.
Buy British Airways Miles And Reap the Rewards of Travel Discounts
Buy Avios Miles Online
1.7¢ /per miles
transfers within 24 hours