Buy MORE Airline Miles Online at Great Prices
What's in a Skyward Miles Purchase?
Upgrades.
Fly Better Business with Skward Miles
Purchasing Skyward miles for business class upgrades means you get your rest and recreation. It starts on your chauffeur-driven ride to the airport and extends to the in-flight entertainment, mini personal bar, gourmet cuisine and flat bed seat.
Fly Better Business with Skward Miles
Buying emirates miles for your transatlantic flights means you get regionally inspired meals, free wi-fi, endless entertainment, and generous luggage allowance.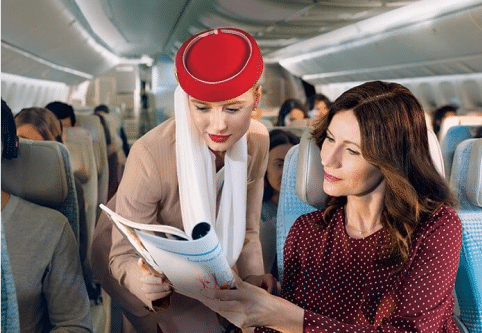 Skyward Miles in Emirates Skywards Takes You Far
Collect Skyward miles when flying Emirates, to enjoy these upgrades Earn Skyward miles faster and enjoy more Emirates Skyward rewards.

Flight Tickets

Hotel Stays

Car Rentals

Priority Check-ins

Premium Lounge Access

Class Upgrades
Purchase Skyward miles to fly the Emirates Airbus A380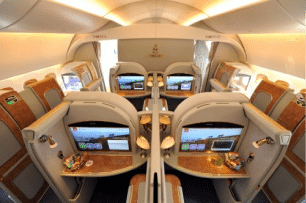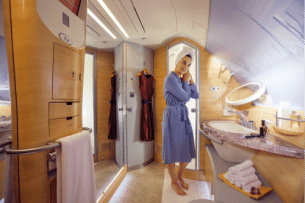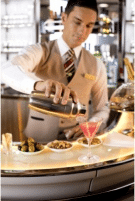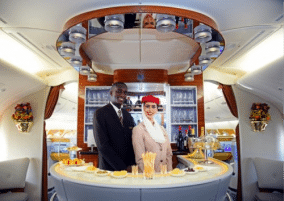 Emirates is one of two airlines worldwide to boast in-flight showers. A380 has private suites and shower spas in their aircraft. They have heated, non-slip floors and are cleaned between each use! This airbus also has in-flight lounges, wi-fi, multi-course meals, in-flight entertainment, and other in-flight luxuries. The airbus weighs between 510 and 575 tons.
Emirates in Numbers

78
Countries
have Emirates airports and flight operating within their region.

3,600
Flights
operate under Emirates airlines on a weekly basis.

63
Employees
trained to bring passengers a safe, comfortable flight experience.
Emirates Skyward
Fun Facts
Frequently Asked Questions

How much are Emirate Skywards miles worth?
They are worth approximately $30 USD for 1,000 miles. You can buy up to 100,000-200,00 miles per year, based on your Emirates Skywards membership tier. Buying Emirates Skywards miles is a great option if you have nearly the entire amount of Skywards miles you need for a purchase or an upgrade and want to fill in what is missing from your account.

What are Emirate Skywards Miles?
Skywards Miles are the reward currency you earn as an Emirates Skywards member. You can earn Skywards Miles when you fly with Emirates and its partners, shop at affiliated retailers, and use affiliated banks, car rental agencies, and hotels. Then, you can exchange those Skywards miles for rewards such as upgraded cabins, car rentals, hotel accommodations, retail purchases, and some other choices.
If you're short of Skywards miles, you can find Buy Skywards miles and utilize them for the difference in missing miles needed to get your Emirates reward.

How do I get Skyward Miles?
A couple of ways, chief amongst them is to simply use Emirates airlines when flying. This will allow you to earn Emirates airline bonus miles, which can be added to your Emirates Skyward account.

How much does it cost to buy Emirate Skywards miles?
While cost may fluctuate based on different factors and miles dealers, you can expect to pay anyplace from $18—$30 per 1,000 miles. At Buy Flight Miles you can expect to pay just $18 for 1,000 miles: As far as our research shows, that's the lowest price for Emirates Skywards miles.

Can I transfer Emirate Skywards miles?

Skywards miles are credited to your account after you've utilized or completed a purchase or service. This means that only after you've arrived at your destination country, used your car rental, or ended your hotel stay, do you earn Skywards miles rewards.
When you fly round trip, you'll notice that Skywards miles for the first leg of the journey will be credited to your account in two stages: The first half when you reach your destination, and the second half when you are back home.

Do Emirate Skywards miles expire?
Yes, they do. Your Emirates Skywards Miles are valid for three years. Within the calendar year that Skywards Miles are due to expire, they will be removed from your account at the end of the month in which you were born. You can pay to extend Emirates Skywards miles for an additional 12 months 3 months before they expire.

Can I buy things with Emirates Skywards miles?
Sure you can! You can use your Skywards airline miles to book flights or pay towards an airline ticket, upgrade cabin seating, hotel stays, and some other perks.

Can I buy Emirates Skywards miles to upgrade to business class?
Absolutely. The amount of Skywards miles you'll need will vary based on where you're going. You'll can upgrade your seating online up to six hours in advance of your flight.

How can I add Emirates Skywards miles to my account?
Log into your online account and fill in the details of your flight or stay. You can claim Emirates Skywards miles up to six months after your flight or stay. You can also buy Emirate Skywards miles at buyflightmiles.com

What is Emirates Skywards Family Bonus?
Family Bonus allows you to share Emirates Skywards miles with a maximum of eight family members. Eligible Family Bonus members can be a spouse, parents, siblings, children, grandparents, grandchildren, in-laws, step-parents, step-children and maids. By pooling Skywards miles you can accumulate miles faster and start enjoying your rewards sooner.

Who can be a Emirates Skywards Family Head of the Family Bonus program?
If you're the Family Head of a Family Bonus programme, you will earn 20% of the base Skywards Miles collected by nominated family members plus 20% of any Business Class or First Class bonuses. Family Bonus members don't earn Tier Miles for the Family Head.

Can Family Bonus members also have their own Emirates Skywards accounts?
Certainly. Family Bonus members can join Emirates Skywards at any time to begin earning their own miles.

How can I add members to my Emirates Skywards Family Bonus?
You can invite members to your Emirates Skywards Family Bonus by email. They must be at least 18 years of age and have their own email address. Children who are under 18 years of age can be added without an invitation if the Family Head is their parent or guardian and they are a Skywards Skysurfers member.
Children under the age of 2 can be added to your Emirates Skywards Family Bonus for convenience, but they cannot earn rewards.

What happens to miles I have contributed to Emirates Skywards Family Bonus when I leave the Family Bonus program?
You cannot take your Emirates Skywards to another account when you leave the program. The rewards will remain in the account for other members to enjoy.

Whenever you fly with Emirates you can choose to contribute to the Family Bonus program. After contributing your desired amount of miles to the Family Bonus program the remaining amount of miles will be awarded to your own account.

How are Emirates Skywards tier miles earned and calculated?
Tier Miles can only be earned on Emirates flights, and not through Emirates partners. They are calculated at the same rate as Skywards Miles, according to the fare you paid, the route, and the class of travel.

What are the different membership tiers in Emirates Skywards miles?
Emirates Skywards tiers are composed of the following tiers and membership benefits:
Emirates Skywards Blue: This is the basic membership in Emirates Skywards. You can enjoy travel benefits, cabin upgrades, access to lounges, free Wi-Fi in first and business class, and some other perks.
Emirates Skywards Silver: In order to reach this tier, you have to earn at least 25,000 miles, or take 25 flights. In addition to all the basic perks you share with Emirates Skywards Blue, you can enjoy complimentary seat selection, instant upgrades on board, 25% bonus miles on Emirates flights, business class lounge access, excess luggage, and more.
Emirates Skywards Gold: To reach this tier, members have to earn 50,000 tier miles or take 50 flights. In addition to the benefits of the tiers lower in rung than Emirates Skywards Gold, you'll enjoy 50% bonus Skywards miles on Emirates flights, priority customer service, guaranteed seats on full flights, and more.
Emirates Skywards Platinum: This is the highest tier in Emirates Skywards. In order to reach this status, members must earn 150,000 tier miles. As a platinum member, you can enjoy first class check-in baggage delivery, Emirates Airline business lounge access, 75% bonus Skywards miles, in addition to all lower tier perks. You can also award your spouse, friend, or anyone else of your choice with Emirates Skywards Gold membership.

Does my status as a tier member remain the same, as long as I am an Emirates Skywards member?
You can enjoy membership privileges for 14 months, after which you'll revert back to basic Emirates Skywards Blue membership.
Buy Emirates Skyward Miles And Reap the Rewards of Travel Discounts
Buy Skyward Airline Miles Online
1.8¢ /per miles
transfers within 24 hours